A China Adoption Story by Heather Fowler
It was March of 2019. My husband and I were sitting at a coffee shop with our social worker, going over our first home study process. An adoptive mom herself and director of an international adoption agency in our state, she warned us that there will always be a hiccup in the process. Just get ready for that. Every adoption has some hurdles to overcome, but I will help you through the process from the home study side. Plus, you have a great agency in CCAI and you'll bring your son home before you know it.
A hiccup. A hurdle.
Our adoption journey had begun several months before when our 10-year-old read a newsletter from a foster orphanage ministry in China, which was advocating for some children in their care who were approaching the then age-out date of 14. He said, "Mom, why can't we give one of these kids a family and home?" I had seriously considered adoption five years earlier after visiting the orphanage in China, so this grabbed my heart. Perhaps now was the time? My son kept praying and gently suggesting ways we could adjust our home to accommodate the little girl he'd read about, who had a wheelchair. He said, "We need to pick a child that no one else will pick, who would otherwise not get a home and family." After family discussions and prayer, the whole family was on board and excited to move forward!
At first, everything was straightforward, and I joyfully checked off each item on the big paper trail. When it came time to select a child (what a heart-wrenching decision!), we knew we could not be matched to one of the children featured in the newsletter, as some were already in process by that point, so we received the pictures and information on other older children in that group's care. When I read about Xie Minyu, saw his brilliant smile, and heard how he'd asked his caregiver when he would ever get a mom and dad, I knew he was the one. We zoomed ahead and were on track to travel before that crucial 14th birthday in May 2020.
Then we hit our hurdle.
That "little" hurdle was the Covid-19 Pandemic of 2020-*. The world turned upside down. I started reading about this strange virus hitting Wuhan, China, in January 2020. I remember thinking, surely this won't affect our travel plans—it just can't delay us, not after all we've done and how close to the finish line we are! But, of course, it did. The wild roller coaster ride of good news/bad news and interminable waiting began.
Good news: The last paperwork is done, and your TA issued!
Bad news: The US State Dept. says don't travel to China (could we come back home if we went?), and China shut down, and you couldn't register the adoption anyway. Now, the border closed, and you certainly can't go.
Good news: An unheard-of thing is happening! Due to your son being about to age out, the province will allow you to complete the adoption via a power of attorney. Rush! We must get the POA documents through the Houston Consulate, as it may shut down at any minute! I emailed the courier and explained that a child getting a family might depend on this document getting through ASAP; does she have any contacts she can appeal to, as they say they won't rush records anymore? She makes it happen!!
Super Good News: On April 2, 2020, the adoption of Xie Minyu to Timothy and Heather Fowler was finalized by proxy in Fuzhou, Fujian, China!! Now, "all" we have to do is wait for travel allowance, and we can get him and bring him home.
The long wait.
So began the Long Wait. He would celebrate three more birthdays without us. We would have a few (awkward) video calls and send packages and letters via in-country contacts when we could. We would wonder if he'd ever come home and question the point of this whole process anyway. To have a scant connection with a boy who continued to grow up in an institution instead of a family? We wondered if knowing somebody wanted him was the gift we were supposed to give him. Maybe that was what God called us to do.
We waited. And, yeah, I participated in all the things—advocacy to our government, prayers, following news from China. Our older children went off to college. The little boy with the burning desire to give a Chinese orphan a home became a teenager, and I wondered how such a deep and long-term disappointment would affect his faith.
Things are moving!
This story could be a book, but let's fast forward to the good news again. In March of this year, China began to open up travel, and I went wild. They'll accept our visas again, can we go? Hillary (the Lord bless and keep her!) and I talked as we worked again through all the excitement and frustration of another roller coaster ride. We crossed hurdle after hurdle, and on May 11, we got on a plane bound for China! Our youngest son lit the spark way back when! He was traveling with us and celebrated his 15th birthday on May 12, in the air for his whole birthday! We finally saw Minyu on Sunday afternoon of Mother's Day! Our family's was the first international Chinese adoption in over three years.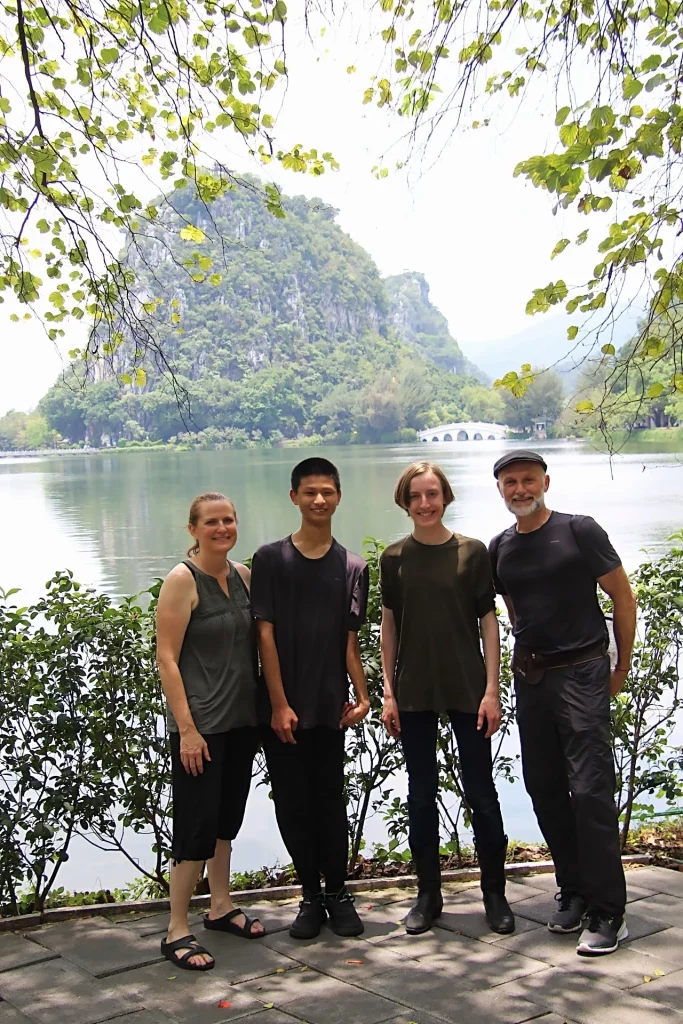 Finally home from China!
We are still reeling with the honor and privilege of being that first family. But like the (now) 15-year-old said when we were making travel plans and getting ready for this trip of a lifetime—"Mom, people say, 'oh, it's so sad that you've had to wait all this time and lost all these years,' but really, having him in our family is a gift we never deserved anyway, so we should just be thankful." Yes, we are thankful.
Welcoming a 17-year-old (we finally celebrated his birthday with him while we were in Guangzhou) into your family is a unique experience. I haven't found a guidebook, but love, patience, and grace for each of us are always the way.
Matthew Minyu is genuinely a joyful human being. I have thought of what he has lost and afforded him space to mourn, but so far, he seems focused on what he has gained in his life. He encounters new experiences with a spirit of fun and humor. Matthew Minyu is kind, helpful, and more than a little (jokingly) ornery! He works diligently on his English and will surprise us by laughing at something we didn't realize he could understand!
We look to the future with minimal certainty but know that we are family, brought together by God through extraordinary circumstances, and we are grateful.
If you would like to learn more about older child adoption and our waiting children, please visit CCAI's adoption page! We look forward to helping you start your adoption journey!