April is Autism Acceptance Month!  To bring awareness and acceptance to Autism, we are sharing a CCAI family adoption story!  The Fowlers are raising two boys with Autism that are radically different from one another.  There is a popular saying in the Autism community, first stated by Dr. Stephen Shore, "Once you've met one person with Autism, you've met one person with Autism."   We have many children in our waiting child program with Autism. Could you adopt a child with Autism?
Autism is an incredibly diverse spectrum, and we at CCAI encourage you to celebrate neurodiversity this month and all year! We have many precious kids on the Autism spectrum waiting for their forever families. Would you consider changing a child's life? Read below about the Fowlers thriving with their son Hudson, adopted through our Taiwan program, and how they celebrate each of their children for exactly who they are.
Meet the Fowlers
We are the Fowlers. We are a family of six: Savannah (16), Jackson (12), and two children, whom we adopted, Brooklynn (11) from China and Hudson (8) from Taiwan. Jackson and Hudson both have Autism. Our dream was always to adopt internationally, a calling God put in our hearts before we met. We knew that we could provide a loving family for any child. As an Army Family of 26 years, we adapt to new situations quickly and easily with a spirit of adventure.
Two Autistic sons who are loved, accepted and celebrated
We adopted Hudson in December 2019, at age 6, knowing that he had a diagnosis of Autism. Since our son, Jackson, was diagnosed with Autism at age 3, we concluded that we knew more than most families about the spectrum and how to help a child with Autism. Even though Jackson and Hudson both have Autism, they are EXTREMELY different. Jackson has level-one Autism. He is brilliant, with an Autistic superpower, enabling his brain to move faster than most. He's also very black/white, justice-oriented, and can get stuck on one topic. Jackson moderates the more challenging aspects of Autism through strategies learned over the years. He is a thriving 6th grader with friends, does great in school, and does not require any medications or therapies.
Hudson has no spoken vocabulary at this time. He sees an Applied Behavior Analysis (ABA) therapist three times a week and an occupational therapist regularly. In addition, Hudson attends a Special Education class at school where he is learning life skills, including social skills, putting on shoes and academic skills like letters and numbers. Not only is Hudson Autistic, but he also has severe developmental delays and ADHD, likely attributable to his early years spent in an orphanage. Hudson may never live independently or be able to hold a job, but we are hopeful with the correct interventions, Hudson will reach his highest potential. God calls us to do hard things and to trust in Him, and we continue to do that.
Hudson loves books! While reading books, his favorite thing is to sit in the rocking chair or recliner and rock. On top of books, Hudson enjoys snuggling with mom on the couch and watching Cocomelon. He gets incredibly excited when his Nana and Popo come to visit and is sweet to everyone.
Accommodations for Hudson
Hudson's unique brain wiring only lets him sleep for 2-3 hours a night, and it quickly became evident that our bedroom arrangement was not sustainable. At the time of Hudson's adoption, our house had a loft area next to the boys' room, so we hired a contractor to enclose the loft and build a bedroom to ensure that Hudson could have his own safe space rather than share a room with his brother. We outfitted his room with a padded bed made to fit in a corner (Hudson loves corners), a rocking chair (Hudson loves to rock), and lots of books and safe toys for him to explore. He loves his room!
After several months of waiting for an appointment with Developmental Pediatrics, we finally received special medical care for Hudson. He now takes medication to help him sustain sleep and other meds to help with aggression, impulsivity, and severe hyperactivity. He still struggles a bit, but the meds absolutely help. Hudson also requires constant supervision and outlets for his hyperactivity. We installed a pool in our backyard and an in ground trampoline too! He enjoys both and has a safe place to get some wiggles out.
Hudson requires a lot of attention and time. Thankfully, we have resources and a support system to rely on. Through Developmental Pediatrics and our Insurance, we are allotted 16 hours of Respite per month. A nurse comes to the house to care for Hudson so we can take a break as a family. We usually take our other kids to Busch Gardens or to dinner and a movie. It also gives us the opportunity for self-care and the dedicated time to ensure our other three children get attention.
Thankfully, our church has a Functional Needs room with an adult buddy for each child. Every Sunday, we take Hudson, knowing he is well cared for and loved, while we refresh our spirits. In addition, we take a family trip every year. Since Hudson joined our family, we have been to Belize, Hawaii, Ireland, and Scotland. We take a companion for Hudson with us on these big trips. Gracie is a college student in our church that is absolutely wonderful with Hudson, and he adores her. She comes with us on these big trips as an extra pair of hands, especially for Hudson.
The Gift of Adoption includes more than Autism acceptance
We have learned to take each day as it comes through this whole process. Some days are perfect, and some days are tough. Sometimes we don't know how to deal with behaviors and personalities perfectly all the time. God did not promise us an easy path. He promised that He would walk beside us on that path. We have had two unique and challenging adoptions, but I would do it again. It has made us stronger as a couple and a family.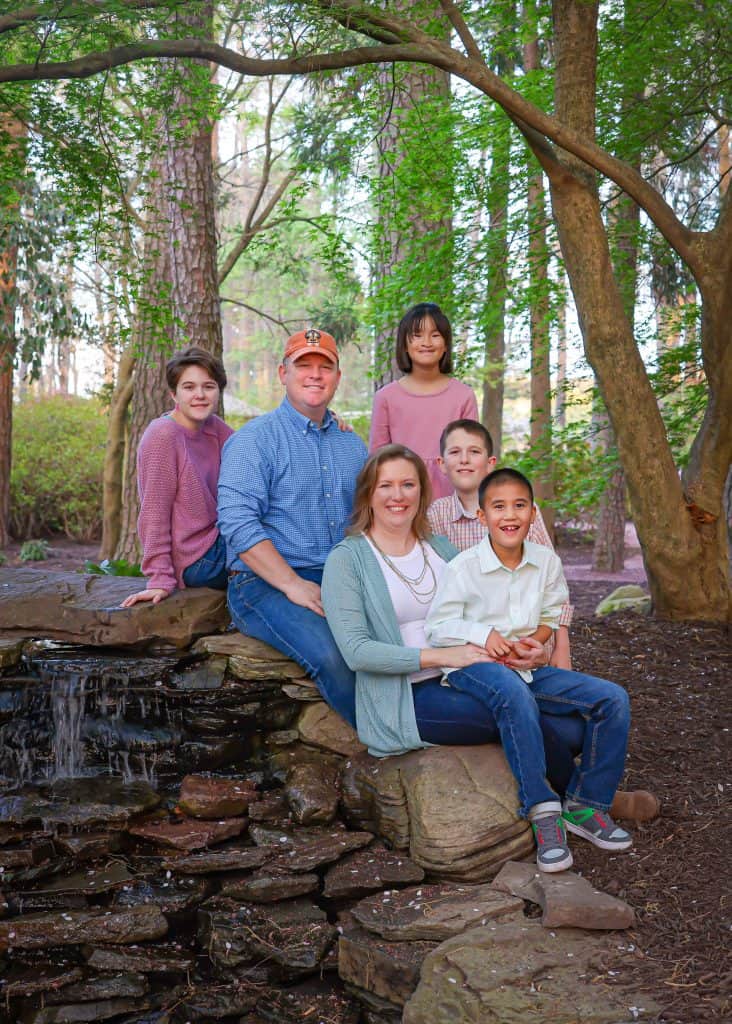 My husband and I decided to walk this journey of raising Autistic, biological and adopted children together, wherever it took us. We realize that our family is a team that works together. Each child, biological or adopted, teaches families about God's unconditional love for us. What's more, each child, biological or adopted, has challenges, and we've learned to rely solely on God. Through all this, we have learned to accept our kid's for who they are and that God's plan and timing are perfect. God never leaves us; we can see it so clearly looking back, we need to trust Him moving forward.
The process is entirely worth it! Moreover, adoption will open your heart and mind to a world you didn't know existed. The endless paperwork, the waiting for a child, and the wondering and praying are all worth it! Seeing your child grow and blossom and become who God created them to be is a true blessing – and you get to be a part of that miracle.
If you are more interested in learning more about adopting a child with Autism, please visit our adoption page . To inquire about adopting a child with Autism, email us at mail@ccaifamily.org.