From the time of Merryn's adoption, our family planned on returning to China for a CCAI heritage trip. Throughout her childhood, we did our best to expose her to the Chinese language, culture, and history as she grew up, but we knew there would be no substitute for traveling to China and seeing it for herself. We originally planned on traveling in 2021, but COVID had other plans.    
My husband and I have discussed a future heritage trip since our daughter, Merryn, was a toddler. Growing up, she has always expressed interest and eagerly awaited traveling in 2021. SHE WAS SO EXCITED when I told her the heritage tours were back and we had also registered. Merryn poured over everything CCAI sent about the trip, and we created a countdown (in Chinese, of course) posted on the whiteboard in the game room!  
Leading up to the trip of a lifetime
Leading up to the trip, Merryn felt overcome with anticipation! There wasn't a single activity she was most excited about, but she was thrilled to see China. Scott and I were concerned about the current political climate and the State Department's travel guidance. Thankfully, Josh addressed those concerns during our group meeting, and we felt comfortable proceeding with trip arrangements.    
We knew we would not be able to visit the orphanage because of Covid protocols, but we were thankful to view the outside gate of the building. However, when we arrived, the guards only allowed our guide, Vivian, to walk up to the gate and take pictures. After some back-and-forth with the guard and some strong advocacy on Vivian's part, the guard granted Vivian permission to escort our daughter to the gate and take pictures. Of course, I wish I could have been with Merryn, but I'm so glad Vivian was with her, and we will be forever grateful to her for giving our daughter this incredible opportunity.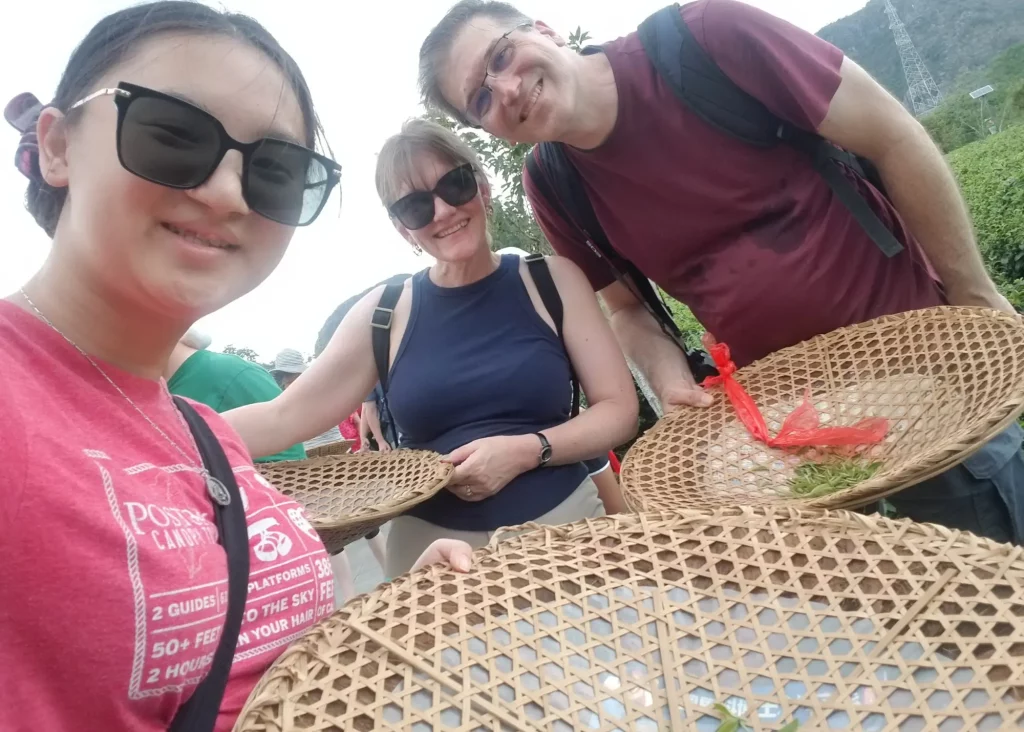 Home and relishing our memories
After the CCAI heritage tour, we were tired (it's a bit of a whirlwind!) but amazed by our memories, the most significant being the birth city trip. It was exciting, intriguing, and emotional, providing additional information and context to our daughter's story.  Merryn had a wonderful time; the trip met and exceeded our expectations. Our daughter especially liked traveling with other adoptees and experiencing China with them.  
We continue to be amazed by the richness, depth, and breadth of the history and culture of China. Struck by the unique character of each city we visited, we noticed that every city had a personality and an energy utterly different from the others, and we enjoyed them all! Merryn says she will never forget climbing the Great Wall and becoming a hero (at least according to our guide, Alice)!   
While waiting to begin our trip home at the Beijing airport, our family couldn't decide on our favorite activity from the trip. We kept changing our minds every time we mentioned something. We still need to decide on one answer!
If you're on the fence about going on a CCAI heritage tour, I advise you to go for it! Not only is China a remarkable place to visit, but seeing your child connect with their culture more profoundly and meaningfully is priceless. 
CCAI's The Park Adoption Community's Grand Tour brings you up close and personal with some of China's most renowned world heritage sites. Visit the Great Wall, Forbidden City, Terracotta Warriors, Giant Panda Reserve, and the Li River, while immersing in unique cultural experiences for an unforgettable panoramic view of China's breathtaking past and present. To learn more, click here.