March 1st is International Wheelchair Day! Numerous CCAI families have adopted children who use wheelchairs, and we are advocating for many more waiting children with medical needs requiring wheelchairs. Read below about a single mother, Heather, and her son Jie, and how they navigate the world using a wheelchair.
Thank you, Heather, for your willingness to answer our questions. Why did you feel called to adopt a child with medical needs?
I'm a special education teacher, so adopting a child with a disability didn't faze me. I didn't plan on adopting then and didn't know what types of disabilities I could handle. However, when I saw an advocacy post for this little guy with "malformed lower limbs" and paralysis, everything came into place.
What challenges do you face as a family raising a child with a physical disability?
I think the hardest thing is advocating for my son Jie's needs. Many people assume that a wheelchair equates to a cognitive disability, and that isn't always the case, so I had to advocate for appropriate school placement. At adoption, he had a lot of delays, so I prepared myself for possible cognitive delays, but that was not the case. The other tricky thing is dealing with people staring and making comments. My son had disarticulation (amputation) at the knees once fixing his legs was deemed to be impossible, and they were causing pain. I was initially taken aback by the comments and stares that he had to endure. Trying to protect his little heart from stares and rude remarks, have a sense of humor, and not be afraid to go out in public is a continual conversation.
One other hurdle with a physical disability is accessibility in our home. With my son, that hasn't been a big hurdle as he will use his wheelchair just as easily as hop out and walk/climb on his hands, but with other disabilities, that can be difficult. Jie needs a lot of surgeries as well. Colorado has a Medicaid Waiver program for kids with disabilities, which has been a lifesaver! Children's Hospital Colorado has provided great wraparound care for orthopedic, urological, and colorectal needs. Surgeries and medical trauma were a big part of our lives initially.
Furthermore, surgeries can be scary and unexpected complications are even more so! We have done trauma, attachment therapy as well as EMDR, and talk therapy to process difficult things that have happened. Taking care of his and my physical and mental health is critical.
What are the benefits for your family of your experience of raising Jie?
So much! Jie is a little guy with a big personality who brings us so much joy. He is kind, caring, compassionate, silly, strong, and one of the bravest kids I know. He gives the best hugs and has so much passion for everything he does, and I am excited to watch him grow up and see who he becomes as an adult.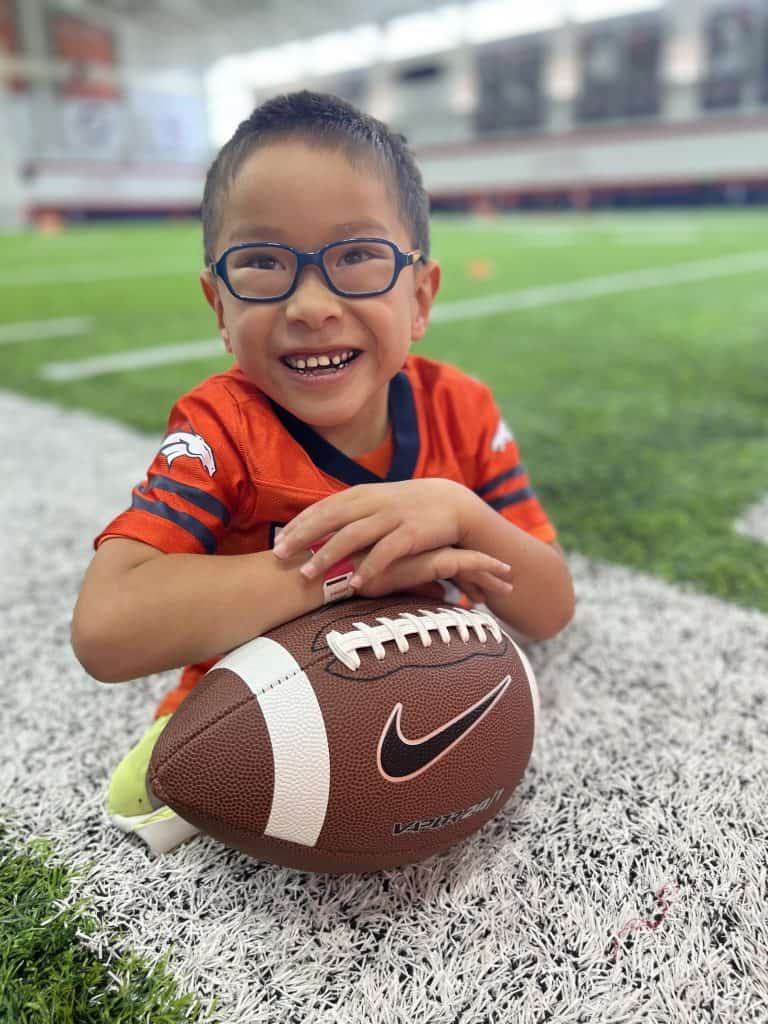 How have you grown as a parent?
Jie was my first child, and I adopted him as a single mom. So, it was a learning curve to be a mom and a family. I've learned how to speak up for what he needs and how to be a Mama Bear while also teaching him to be independent and speak up for himself if needed.
What kind of interventions does your child require at home and school?
As part of Jie's disability, he's small for his age. I help with some transfers, but he is also very strong and tries to transfer himself. We have a ramp for our home. Jie usually prefers to crawl and climb inside our house, but we adapt bathrooms to be wheelchair accessible.
At school, Jie had an IEP while in preschool, but now he has a 504 plan for physical and medical accommodations (he goes to the nurse to cath, making sure his desk fits his wheelchair, etc.). He's very independent and doesn't require an aide or too many accommodations at school.
Does your child's disability require many doctors or hospital visits? How often?
Yes, it does. Within the first few years of adoption (roughly ages 2-5), Jie had a cardiology appointment because his disability can cause heart issues. Thankfully, he's received a clean bill of health. We saw urology and colorectal quite often and did a Bowel Boot Camp at Children's to get him on an enema program to be socially continent and wear underwear. When he first came home, he had feeding, speech, occupational, and physical therapy. He's now graduated from all of these therapies and only sees his physical therapist on a consulting basis. Now at seven years old, he sees his pediatrician, eye doctor, dentist, and the Spinal Defects Clinic once a year to see all his specialists at once (urology, colorectal, orthopedics, rehab doctor, wheelchair technician). The hardest thing we deal with now is persistent UTI. He'll be having another bladder surgery to help remedy that, hopefully.
He's had several surgeries, bowel/bladder surgery with a mitrofanoff in his belly button for ease of cathing and independence and a cecostomy with a mini mic key for bowel flushes when he was 5. He had disarticulation surgery at the knees when he was 6.
What advice would you give other parents considering adopting a child who uses a wheelchair?
Research all you can. Talk with other parents and adults with disabilities. Be prepared if your child may have a range of needs varying from physical/cognitive/behaviors and an open mindset of what your child can do and achieve.
Research insurance and what they cover and state programs to help cover medical needs. In addition, research adaptive sports programs and other nearby offerings. Watch some paralympic sports on Youtube and be amazed. My son does adaptive Kenpo Karate and sled hockey. There is also wheelchair basketball, sit-skiing, power soccer, wheelchair rugby, wheelchair track, field events, archery, and more! Adaptive sports are an excellent way for a child with a physical disability to meet others who are like them, not feel alone, and help develop a healthy sense of identity.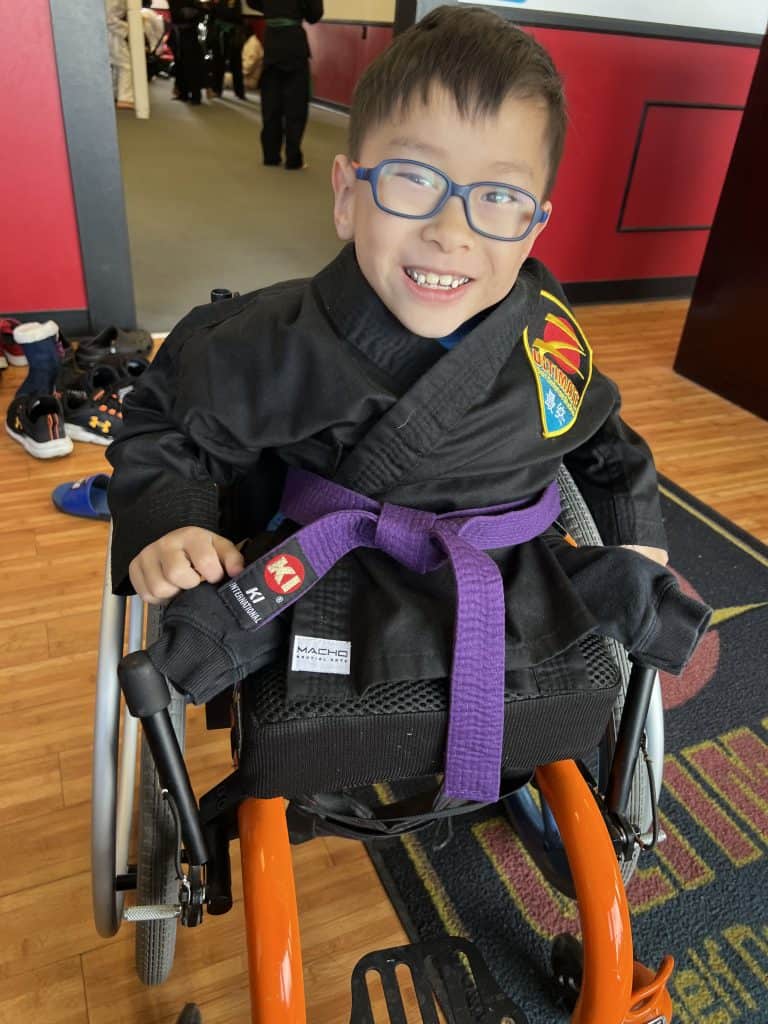 Finally, what would you like people to know about children with disabilities?
Above all, they are just kids! Having a child with a disability doesn't fully define who they are; it's just a part of who they are. My son has a disability, but at the root of it all, he's just a sweet 7-year-old boy who loves life!
At CCAI, we believe that every child deserves a loving family. If you are interested in learning more about medical needs adoption, please email us at mail@ccaifamily.org.