A Colombia Adoption Story by Rebecca Sutton
Our adoption story began before my husband Jake and I met. We both felt God's calling and leading in our lives to adopt when we were younger. Jake knew when his sister was adopted through CCAI from China in 2002 that he wanted to adopt one day. I felt a pressing in my heart for children without families when I was in high school. We started praying for our future family, and in January 2021, we began our adoption journey.
We asked God to lead us to the right agency, country, and children. Both of us felt called to adopt a sibling group of two children from the beginning. After our first video call with CCAI and how wonderful they were throughout Jake's sister's adoption, we knew we found the right agency to work with.
Our calling to Colombia
We prayed over three countries for months until God directed us to Colombia, knowing we wanted to connect well with our children right away, and I had studied Spanish throughout grade school into my first year in college (although I was a bit rusty). In addition, we researched as much as we could about Colombia and its rich, diverse history. We knew that the program with Colombia had more stringent guidelines, potentially more time in-country, and that the process overall could take longer than some of the other countries. Still, we were prepared to wait patiently for our future children.
We filed our first paperwork in July 2021 and arrived home with our two beautiful children precisely two years later. We gathered everything we needed through frustration, tears, and time and saw the first few photos of Xiomara and Santiago in July 2022. Even though we had never been parents before and were jumping right in with an 11-year-old and a 3-year-old, we knew without a doubt that these were our kids! We would have to wait another six months before speaking to our precious babies. This part was one of the most challenging waiting periods for us.
Meeting our precious babies!
We were all nervous on our first call, but thankfully, we had our pets and their bedrooms to show them and help break the ice! Each week, our calls were sweeter, and our family connected well. We all looked forward to our calls together. Jake and I traveled to see our babies on my birthday in June and missed our connecting flight at midnight. We aren't sure why we missed our flight, but we knew God asked us to trust him in our journey. Thankfully, we connected with kind people who had also missed the same flight, and we all found a hotel to rest at for the night. Our kids' bags arrived in Bogota, but our bags missed the flight! We received them three days later. It was quite a journey to Colombia!
Our first meeting was on June 5, 2023. We waited anxiously in a small park at FANA, unsure what to expect, but as soon as our kids saw us, they immediately ran into our arms; we all hugged and cried tears of joy. It was such a beautiful moment!
Our time in Colombia as a family
The following month was filled with meetings, paperwork, appointments, and a lot of time for fun stuff, too. We visited the zoo, the mall, and the Salt Cathedral, walked to the park every day, and watched a movie every night with popcorn! Xiomara enjoyed helping me in the kitchen, and Santiago played hide and seek with Dad (he always hid in the same place).
We were so grateful to the kind and wonderful Martha and her lovely team of drivers while we were in Colombia. On top of that, we're thankful for Daniela and all of the amazing people at FANA who loved on our kids so well while they were in their care for four months. Finally, we are incredibly grateful to CCAI and the fantastic team who supported us throughout our journey. They were always professional and kind and genuinely heard all of our concerns.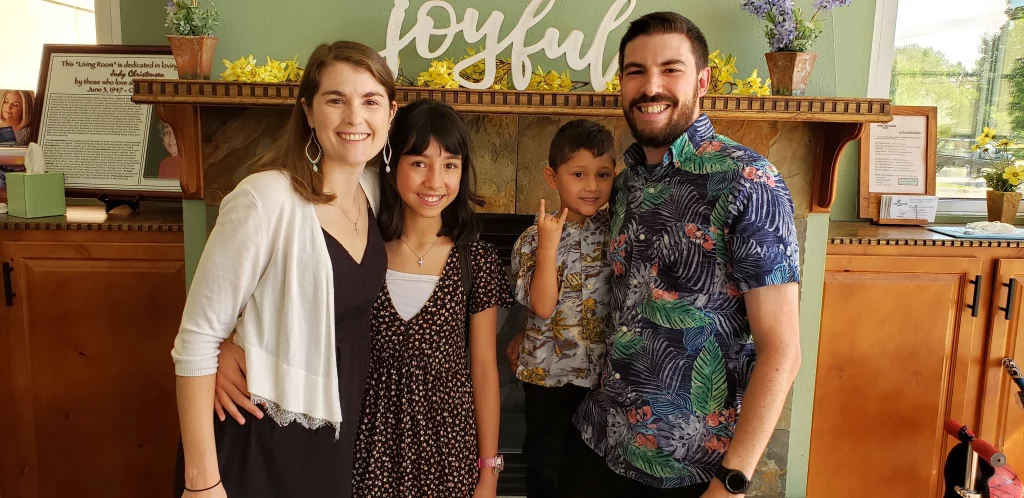 Finally home together!
The journey home was much smoother, and both Xiomara and Santi were so excited to meet their extended family that they wanted a fiesta as soon as we got home! They met our entire family within the first 2-3 weeks in the US and felt so much love and support. Our beautiful, extroverted kids love spending time with their new family and being silly with their cousins. Xiomara is very creative in the songs she makes up, the drawings she creates, and the games she likes to play. She also loves listening to music, singing, playing basketball, riding her bike, being silly, and telling jokes. Santi loves all things Spiderman, dancing, riding his bike, jumping on the trampoline, and making silly facial expressions.
While it was difficult to wait, and the transition hasn't always been smooth, God consistently reminds us of what He can do. He truly blessed us in more ways than we could have ever dreamed. We love our kids so much and can't imagine our lives without them!
If you would like to learn more about adopting from Colombia, be sure to reach out to our Colombia team!